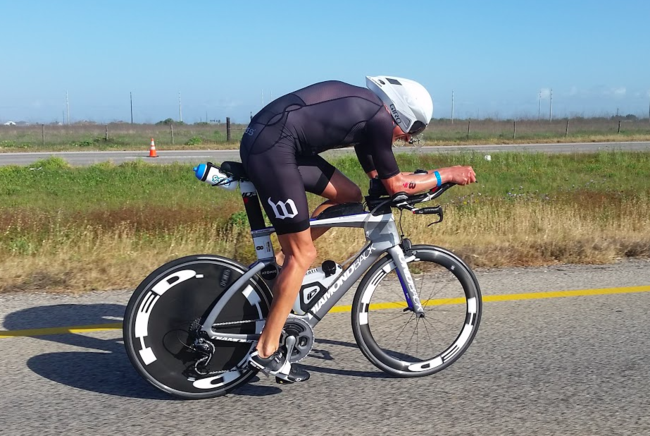 Diamondback Triathlete Michael Weiss vaulted to the podium at the Ironman 70.3&nbsnbsp;Texas due in no small part to a great time on his Serios. What follows is a look at the numbers behind Michi's training by his coach, Garth Fox. We often talk about the hard work and analysis that goes in to high level competition, but this look inside reveals just how much dedication these athletes possess:
The first race of any season is always a nervous one for athlete and coach alike. Irrespective of how well you might think that winter training has gone, you never really know until race day. Ordinarily, Michi is able to get into early season race shape really quickly. After a 2-week holiday break where he completely downs tools it usually takes him just 12 weeks or so before he is chomping at the bit and feeling ready to race. This ability certainly has something do with some form of 'muscle memory' where year after year the body gets used to getting back into shape for each new season's campaign. Once the consistent training begins all the good stuff – body fat reduction, increased lean body mass, lower heart rates for given training intensities, increased ability to sustain target race pace/power, improved aerobic capacity and so on – happens within weeks. However, this year was very different!
After having developed a knee problem early last year, Michi elected to get it surgically corrected at the end of 2015. To cut a long story short, the procedure was very successful but still required 2 weeks off the bike, 4 weeks out of the pool and almost 10 weeks with zero running. Not to mention intensive physiotherapy treatment twice a day everyday for 6 weeks. In the last 8 weeks in Colorado Springs, Michi managed to get some good swim sessions done at the Olympic Training Center and also enjoyed getting back to the mountain biking trails for which Colorado is so renowned. However, the compromise was that running volume really had to be curtailed, indeed Michi has averaged less than 30km of running per week so far this year and as you can see from the chart below, it has been cross country skiing which has been the larger volume component: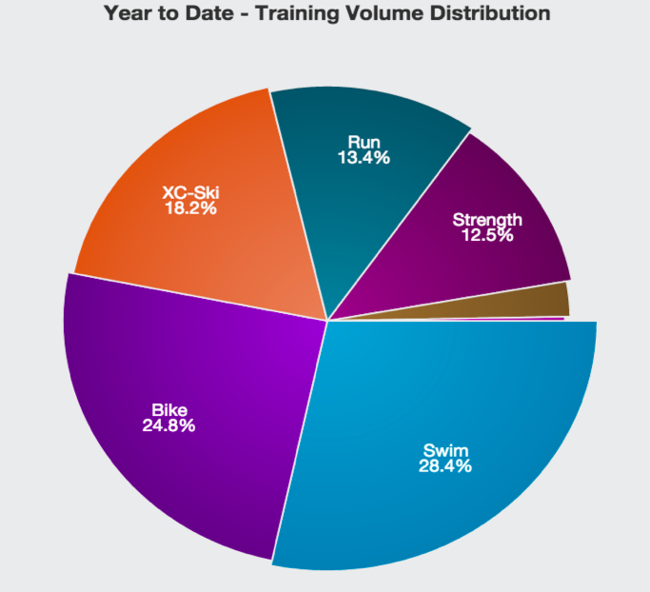 Swim, Bike, Run has a Cool Friend in Town and He's Wearing Skis
Both Michi and I are huge XC skiing aficionado's and we decided to incorporate a lot of this into his training after the knee operation as it is non-impact and kind to a recovering knee. More than that, as a means of simultaneously developing an efficient aerobic metabolism while emphasizing functional core activation and strength, there is no better exercise, especially when performed with good technique. Many of these sessions were performed at low intensity but at altitudes of 2500m+ above sea level, which only served to better aerobically challenge an athlete who had just had the longest layoff of his career – See a typical training file below. Note the variation in terrain, high altitude and stochastic heart rate (red trace) response – No steady state training monotony going on there! Essentially, XC skiing requires the production of power for forward propulsion off one leg at a time, which also happens to be sliding across an inherently unstable surface. The core muscle activation required to do that efficiently is far and above anything experienced in traditional triathlon training.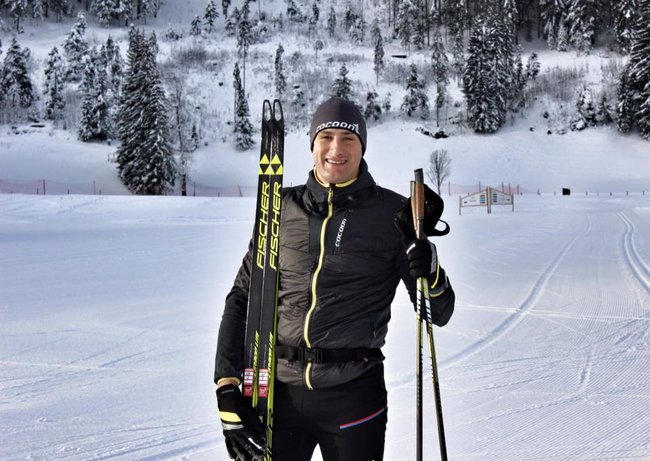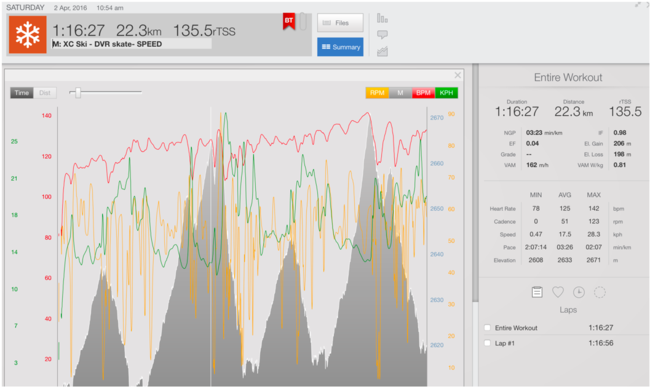 The result of all this skiing was a really fast rehab and transfer to triathlon specific fitness whilst preserving freshness for a long season ahead. And while the top 2 guys on the podium in Texas both ran 3-4 minutes quicker than Michi for the half marathon, I am fairly certain they have been running more than 30km per week this year and Michi still put together a 1h17m half marathon which is not entirely pedestrian! In fact I am convinced that this enforced, longer than usual off-season lay-off with an emphasis on XC skiing will be the gift that keeps giving as the season unfolds. He is already performing against the best triathletes in the world this year on just a handful of triathlon specific workouts. Creating a quality training stimulus is all about getting the body's attention in order to get the biggest fitness return for the least training input. When the athlete is already performing highly and yet can get that effect by simply showing up for a sport specific workout that is when the magic happens.
Texas in the Springtime
Ironman 70.3 Texas was selected as Michi's season opener because the timing was right – his rehab would be complete and he should have been able to get reasonably fit by then. Furthermore, the bike course is pancake flat and windy, which plays into the hands of the strongest cyclists. The race would also serve as a decent warm up for the North American Ironman Championship also in Texas one month later. It proved to be the right race choice and validation that Michi is back in business. Lets take a look at the bike split numbers produced by his SRM PowerMeter: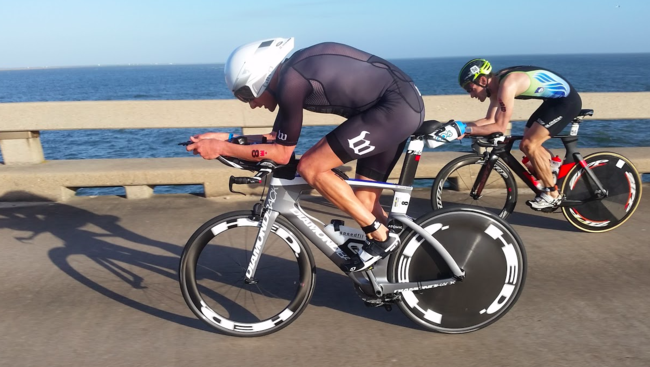 Ironman 70.3 Texas – SRM Data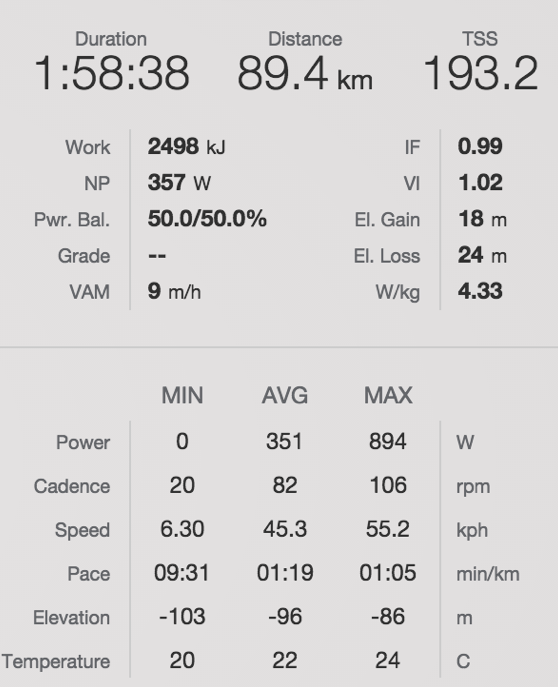 A quick scan of the numbers reveals that:
1. Power spikes were kept to a minimum as evidenced by the similar normalised and actual power numbers hence the low variability (VI) figure. This is good as it means less energy is wasted – Smooth is fast.
2. Michi's current critical power (threshold) is around 390W. I know this because he is able to ride at around 90% of his threshold power when feeling good. This is not directly evident from the numbers though because they are based on outdated test numbers because testing was not a priority when training time was limited. As such the Intensity factor (IF) shows 0.99 rather than the usual 0.85-0.90). Basically he is still someway off his peak of 405W, which in April is just fine.
3. The average speed at 45 km/h was really high! The race winner, Lionel Sanders, rode almost identical watts to Michi (albeit measured on PowerTap pedals) but in spite of being much lighter framed and (presumably) presenting a far smaller frontal area to the wind, his bike split was actually only 30 seconds faster which makes me very comfortable with Michi's aero package especially as it is a new bike setup and, as yet, far from optimized.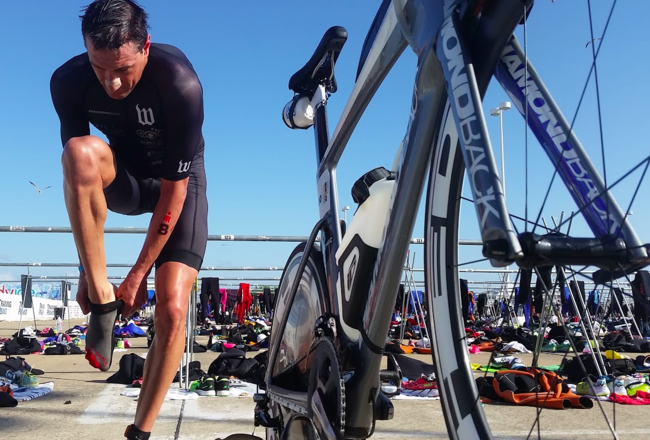 Silky Smooth, Crazy Fast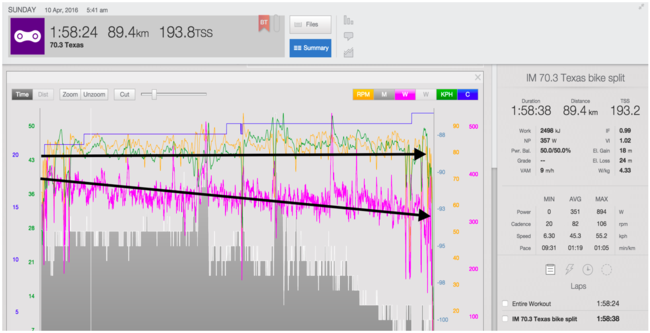 After a decent swim, Michi exited the water around three minutes behind the lead group but more importantly together with the on-form Lionel Sanders who won 70.3 Oceanside just eight days earlier, and only around one minute down on Andreas Dreitz (who had also got second place behind Sanders at Oceanside). Out of T1 it was game on and really just a matter of laying delivering a big power number as smoothly as possible in order to optimize the run.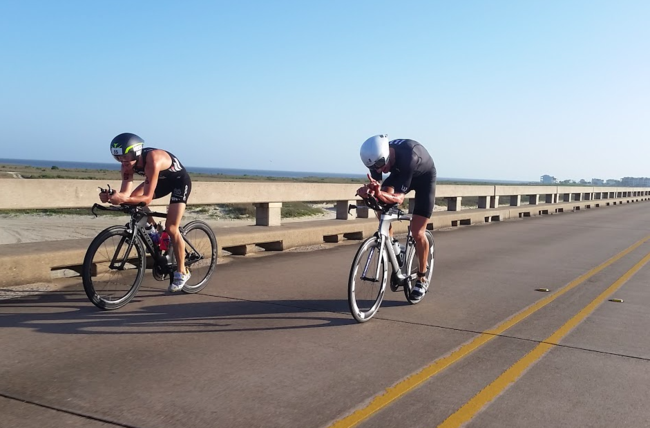 Fast But Not Faster
After some technical sections in town, the course really just becomes an out and back, albeit a constantly windy one. The wind was mainly behind after the turnaround and this is evident in the power file over the second half. Note the downward left to right slope of the power trace (pink) while speed (green) and cadence (orange) remain constant. The wind behind allowed the athletes to marginally reduce power while maintaining cadence, which also allows for a degree of recovery before the run. Also, because power increases as a cube of velocity, every small increase in speed requires exponentially more power to overcome drag force so if the wind is helping to maintain a given race speed – 45km/h in this case – then there is nothing to be gained, and lots of energy to be lost, from trying to go just a little bit quicker if you don't need to. This is why Michi matched the speed of Sanders who was approximately 100m ahead of him, but never actually closed the gap – it would have been just too energy costly to do so. During the ride Michi consumed his usual 85g of GQ-6 carbohydrate per hour via a Speedfil hydration system. He did all this on a new Diamondback Serios triathlon bike with SRM PowerMeter, PC8, and Atomic High Performance drive train coating. A HED rear disc wheel completed the setup. There are several tweaks to be made to the bike package, but as it stands it was already fast, efficient and good enough for the second best bike split of the day.
Congratulations to Michi on a rock solid season opener against the odds and thank you as always for letting us delve into the numbers. Ironman Texas and the North American Championships here we come!