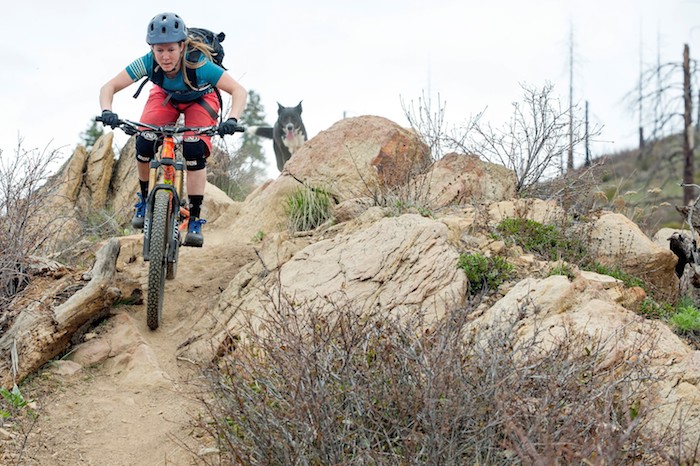 Fewer things bring a smile to a mountain biker's face than a well-trained trail dog. The best of the best can scrub jumps like a world cup racer, take ninja inside lines, stay right on your wheel, and wag their tails with pure delight at the end of a great descent. Training a trail dog takes time, but if done well, you'll always have a buddy ready to ride with you, no matter what Ma Nature may have in mind. The old saying, "You can't teach an old dog new tricks" may hold true, as it's best to groom younger dogs for riding. Considering training your pup? Here are a few tips:
Tip 1: Start 'em young, but not too young. While training puppies new things is typically easier than older dogs, it is crucial you don't run your puppy too hard at too young of an age. Experts suggest waiting until the puppy is about 8 months old before you start running them longer distances. If eight months seems like forever, consider starting with short hikes in the woods with your dog. This will get them familiar with the type of terrain you'll bike on. Hike on trails with obvious paths so they understand how to follow a trail. Keep them on a leash and heeling close to you so they know to stay near. Once they become comfortable with your pace and surroundings (and don't have a tendency to bolt), let them off leash. Give them vocal queues to keep them near you, and reward them for doing so. Jog a little bit to see if they are apt to keep up with you. If not, put them back on the leash and jog with them so they understand that they need to stay with you.
Tip 2: Once comfortable off leash try playing hide and seek. This may seem silly, but there may be occasions when you outride your dog and you're separated. Instead of panicking that you've lost each other, a quick game of hide and seek will have you reunited in no time! Go back to the familiar paths where your dog first learned to walk off leash. Have the dog sit and stay while you go hide behind a tree, out of site. Once hidden, whistle, or yell, "OK!" When the dog finds you, reward him again so he knows he's always supposed to find you.
Tip 3: Teaching your dog how to drink out of a hydration pack is a great way to ensure he stays hydrated on warmer days. There's not much magic to this, but ensure you can keep a consistent stream of water coming from the hose so Fido gets adequately hydrated. Practice at home before you hit the trails on hot days.
Tip 4: Speaking of hot days- don't run your dog long distances on days that are too hot. There's no magic number, but use your common sense. If there aren't constant streams for your dog to rest in and recharge, don't take him if it's too hot.
Tip 5: When ready to move to the bike, start by taking your dog on short rides on your bike while leashed. This can be dangerous, so make sure you're confident on holding a leash while your dog runs alongside. Make sure the leash is long enough so your dog won't get too close to your wheel. One thing I do is attach the loop of the handle to my chest strap on my hydration pack. That way if he pulls, he's pulling from my center of mass and not likely to pull me off of my bike. Go slow at first until you're able to have your dog trot alongside you without having him pull.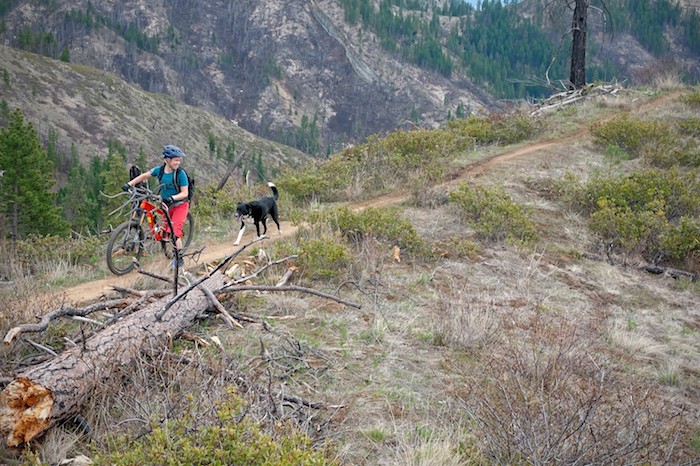 Tip 6: When your dog is comfortable running alongside you on a leash, take him back to the trails you first learned to walk in the woods off leash. While on your bike, have the dog sit. Unleash him and keep him seated. When you're ready to go, start slow and call for him. If he gets in front of you, immediately give the command, "follow," and stop and place him behind you. Reward him for getting behind you, so he understands he needs to stay out of the way. Most dogs understand this quite easily, but repeating the behavior until he grasps it will ensure better behavior when on a longer ride or with a group.
Tip 7: Once you've mastered your local stomping grounds, take him on a longer ride. The same rules apply. Leash him until you're ready to go, then ensure he's following alongside. As he gets more comfortable on more rides he will learn to explore and come back to you. Practice the "hide and seek" rule on rides, too, to reinforce that behavior.
Tip 8: The best rides for your dogs are rides that aren't incredibly fast. Remember, they're running the entire thing. A 20-mile ride for you is a massive day for your dog. Try to take him on rides with multiple water sources. Try to stay away from super hard packed, steep descents. This type of terrain is bad on the hips and joints for your dog. Just like us, dogs love the loam!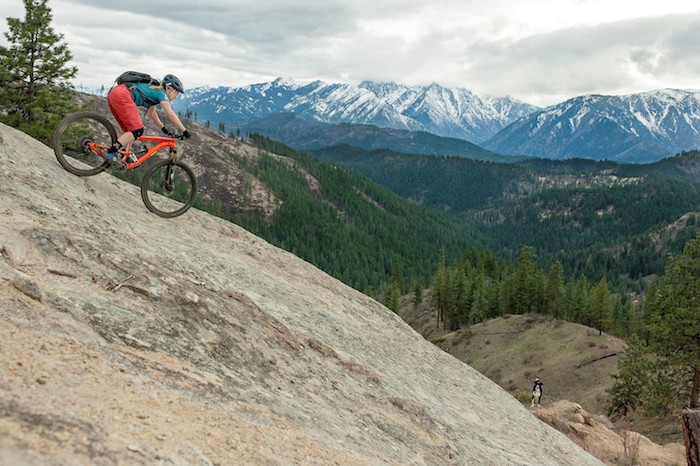 Tip 9: After a long day of riding, give your dog a massage. Have him lie on one side and massage his hips and shoulders. Stretch his legs. Make sure to do both sides. Just like people, dogs need to recover from a big day on the bike. Choose your dog's rides wisely. Don't run him every day, and give ample resting time between big runs.
Tip 10: Make sure he knows how great of a job he's doing. In between segments, stop and tell him he's a good boy! Dogs love to be rewarded verbally and will always appreciate the positive reinforcement. But the most important thing of all, have fun!