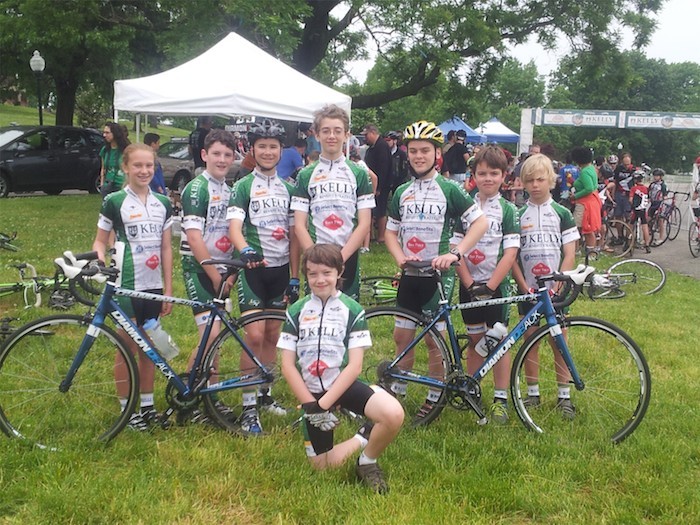 "Race ya to the end of the block!"
As soon as a kid learns to ride a bike, these words are usually soon to follow. It's a natural progression to see just how fast and far we can go.
The Kelly Benefit Strategies / Lateral Stress Velo 14-and-under Junior Cycling Team is among the growing number of clubs that are enjoying a boom in organized youth cycling. Only a couple of years in existence, they're a group of roughly a dozen youth riders who love to ride and race their bikes together.
Brian Moroney, coordinator of the team:
"The group formed in January of 2014 after my kids (now age 13 and 11) and a couple of their friends entered a nearby late season cyclocross race in 2013. The kids loved it and were disappointed to find they discovered the sport of cycling at the tail end of the racing season.
We have a total of 12 kids ages 9 to 13 that race a combination of road, cyclocross, and mountain bikes, primarily in Maryland and Virginia.
Currently, six of the 12 juniors have Diamondback youth Podium road bikes: Podium 24s, a Podium 650, and a Podium 700c.
The group grew that winter ('13/'14) after word spread that we were assembling a group of younger juniors to train and race together. Today, we have roughly 12 kids that race their bike for Kelly Benefit Strategies/Lateral Stress Velo.
We met in my garage the past two winters and completed our second year of early season training rides in an industrial/business park loop, where we work on bike handling, cornering, sprinting, and pacelining.
The group has entered their second race on the road this season and has already earned a top spot on the boys 11/12 podium and top spot in a 13-and-under boys.mountain bike race."
Right on guys! Diamondback Bicycles is cheering for you!
Check out the full Youth Podium Series, available now.