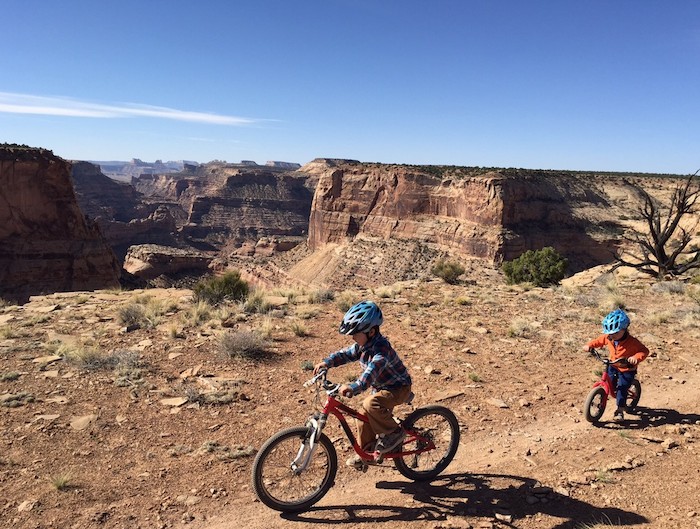 Do Your Homework
Before your trip, call a bike shop or cycling club near your destination. Specify the age and riding ability of your kids, and ask about flat, scenic, low-traffic rides with plenty of places to eat, play, and sightsee along the way. If you'll be doing a short ride on a long trip, consider renting bikes and trailers or tag-alongs to avoid the hassle of ­wrangling and hauling your own. (If you plan to rent a trailer, make sure it has a five-point harness, a roll bar, ventilation, and a sun shade.)
Always Have a Plan—and a Plan B
Schedule riding time around meals and naps. Low blood sugar coupled with fatigue can turn a family joyride into the Tour de Meltdown. Kids (and some spouses) bonk faster than experienced cyclists, so carry extra food and water. Communicate your plan to the whole family so no one has to ask, "Are we there yet?" But have a secret backup plan: If you're riding dirt, find a trail with loops of manageable distances or multiple bail-out points close to a road. Touring a new town? Be ready to pull over if you spot something that looks fun. If all else fails, leave your spouse with the kids while you get the car.
Pick Bike Routes That Have Rewards
While the ride itself might be a treat for you, your family may need goals and a more tangible payoff. It might be breathtaking views that unfold around every bend or an ice cream shop or a playground. If it's safe, let the kids lead: They'll set a pace that works best for them, and you'll be able to keep an eye on their fatigue level. Provide fun checkpoints to break the ride into segments, or turn it into a scavenger hunt. Keep a few special treats in your jersey pocket to share when the group reaches its goal.
Four Fam-tastic Cycling Routes
Golden Gate Park
The San Francisco park is home to attractions including a playground, the California­ Academy of Sciences, and a Dutch windmill. Bonus: Sections of JFK Drive are closed to traffic on Sundays.
Great Smoky Mountains National Park
Cars aren't allowed on the 11-mile Cades Cove loop in Tennessee until 10 a.m. on Saturdays and Wednesdays from May through October.
Katy Trail
Rail-trails (former railways converted into bike paths) are usually flat and car-free. This one in Missouri connects charming small towns filled with shops, parks, wineries, and B&Bs.
Zion National Park
Traffic is limited to bikes and eco-friendly buses on some park roads from April to October, leaving empty ribbons of scenic byway winding through Utah's psychedelic canyonlands.
Prep for Your Trip With These Kids' Bike Books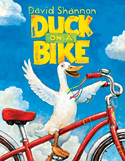 Duck on a Bike
When kids leave their bikes lying around, barnyard animals hop on.

Gracie Goat's Big Bike Race
Gracie's adventurous grandma teaches her how to ride a bike.

Mike and the Bike
When Mike sees a hill, he says, "I think it is time to climb!" Comes with a CD.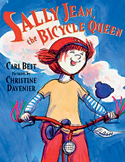 Sally Jean, the Bicycle Queen
Sally Jean's parents can't afford to replace the bike she's outgrown—so she learns how to build a new one.