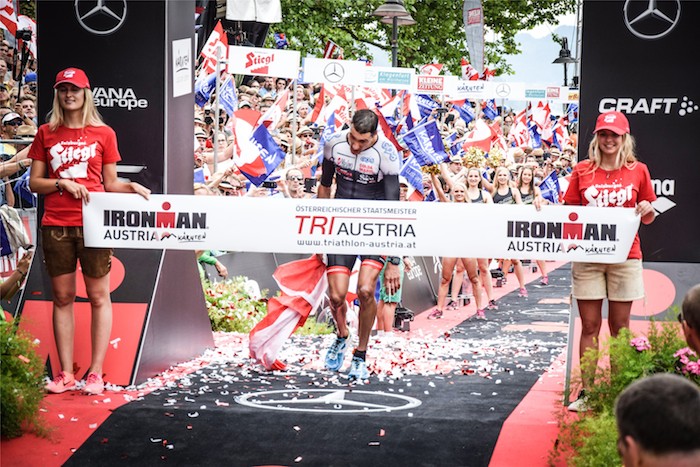 Michael Weiss finished 4th overall in the 18th edition of Ironman Austria. The native Lower Austrian completed the 2.4 mile swim, 112 mile bike and 26.2 mile marathon run in 8:14:45 hours.
Weiss was the first Austrian across the line and his 4th place KPR points brought him a huge step closer to qualifying for the World Championships in Kona this October. "The biggest challenge of the day was not to give up."
The canon blasted at 6:40am signaling the professional men's field to begin the 2.4 mile swim in the crystal clear Wörthersee. 56:16 minutes later Michael exited the water, only a little more than three minutes behind the fastest swimmers. "That was certainly my best swim, I felt sensational."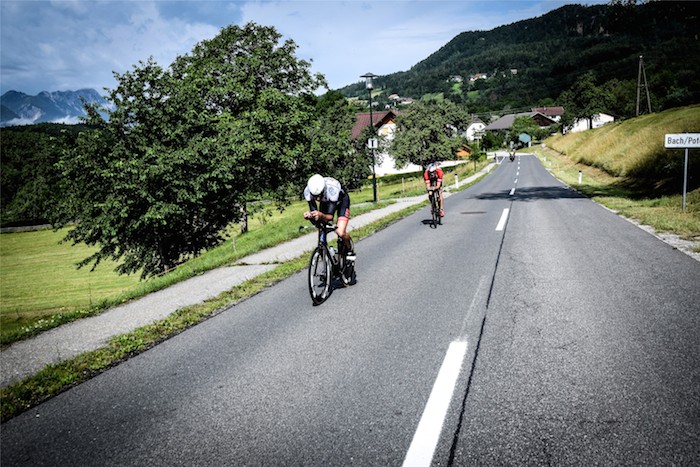 Once on the bike, Michael powered his way to fourth position. "I was able to successfully execute my race tactics today and delivered a strong, well-paced bike performance." He completed the 112 mile course in 4:21:04, the second fastest bike split of the day, aboard his Diamondback Serios.
On the run Michael quickly overtook Anthony Costes of France followed by Paul Reitmayr and had his sights set on race leader, Marino Vanhoenacker. However, after 7.5 miles, Michael began to physically struggle and was now able to hold off Viktor Zyemtsev of Ukraine and the Italian Alessandro Degasperi. "The last 30 kilometers were a constant struggle. The biggest challenge was not to give up and quit."
Michael fought hard to hold fourth place and crossed the line in 8:14:45 hours. Although he desperately wanted to see the podium this year he was certainly proud of earning the Austrian National title and solidifying his spot in Hawaii at the World Championships.
"This is a much appreciated acknowledgment of the hard work in recent years. Sadly, I was very disappointed to miss the flower ceremony. When the Austrian anthem was played, I was in the Medical Tent. That hurt."
Weiss was cleared from the Medical Tent and looks forward to celebrating the performance with friends and family at the Awards Ceremony. His next race, XTERRA Beaver Creek, takes place in 3 weeks and will likely be his qualifier for the XTERRA World Championships in late October.
photos courtesy triaguide.com