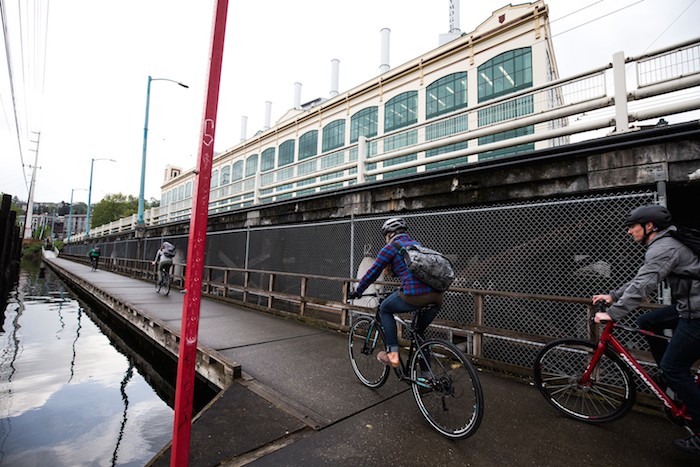 You have the bike. You want to ride, but you just can't find the time to get in all of the hours per week you want. There's a simple solution: Trade four wheels for two and start commuting by bike. The ride not only provides extra workouts during the week, it's environmentally friendly, and since exercise is a known stress reliever, imagine how much more relaxed you'll be at the office!
We chatted with Chris Mayhew, a longtime cycling coach who not only bikes for sport, he also bikes for work and around town with his young son. Chris offers some sound advice for those new to the commuting game.
First things first: Know your route. Check Google Maps for the best bike route (change from "Driving" to "Walking" or "Riding"), since the way you drive may not be the way that you'll want to ride to the office. "Pre-ride the route a couple of times when you're not under pressure," Mayhew recommends. "Maps aren't always accurate. Little idiosyncrasies that don't matter in a car can be a big deal on a bike."
Make bike commuting a fun experience, not a daily grind. Be happy that you're doing something to make you fitter and healthier, and bring some friends along. "Find out if anyone else is doing part or all of your route," Mayhew says. "Company and experience can go a long way."
Work is too darn far? "Some is better than none," Mayhew insists, and suggests that if the office is just too far away, "Start by driving part way and riding the rest. Commuting is a big (but positive!) lifestyle change and you don't have to completely change over night."
Mayhew's final tip calls to mind the old Boy Scout credo Be Prepared. "You will invariably leave some needed item at home. Leaving spares at work helps. Triple-check any food or drink items you put in your bag. Everyone spills coffee in their bag once too."
For those of you worried about getting too sweaty on the ride, consider keeping a change of clothes (or at least shoes) at the office to cut down on what you have to carry in with you. Baby wipes are a great in-office staple as well, especially if there aren't showers available.
To get your bike ready for work, consider if you want to tote a backpack or messenger bag. If you have a lot of hefty stuff, consider mounting a rack that you can use to carry panniers on the sides of your rear wheel. At the same time, make sure you pick up a bike light for late nights and foggy or rainy days, and if you don't have it already, definitely invest in a helmet. If you're planning to be a hardcore bike commuter, some rainy day gear (jacket and pants) is a smart investment.
Finally, message us pictures of your bike-commuting rig on Facebook! You might even be featured on Diamondback's Facebook page.